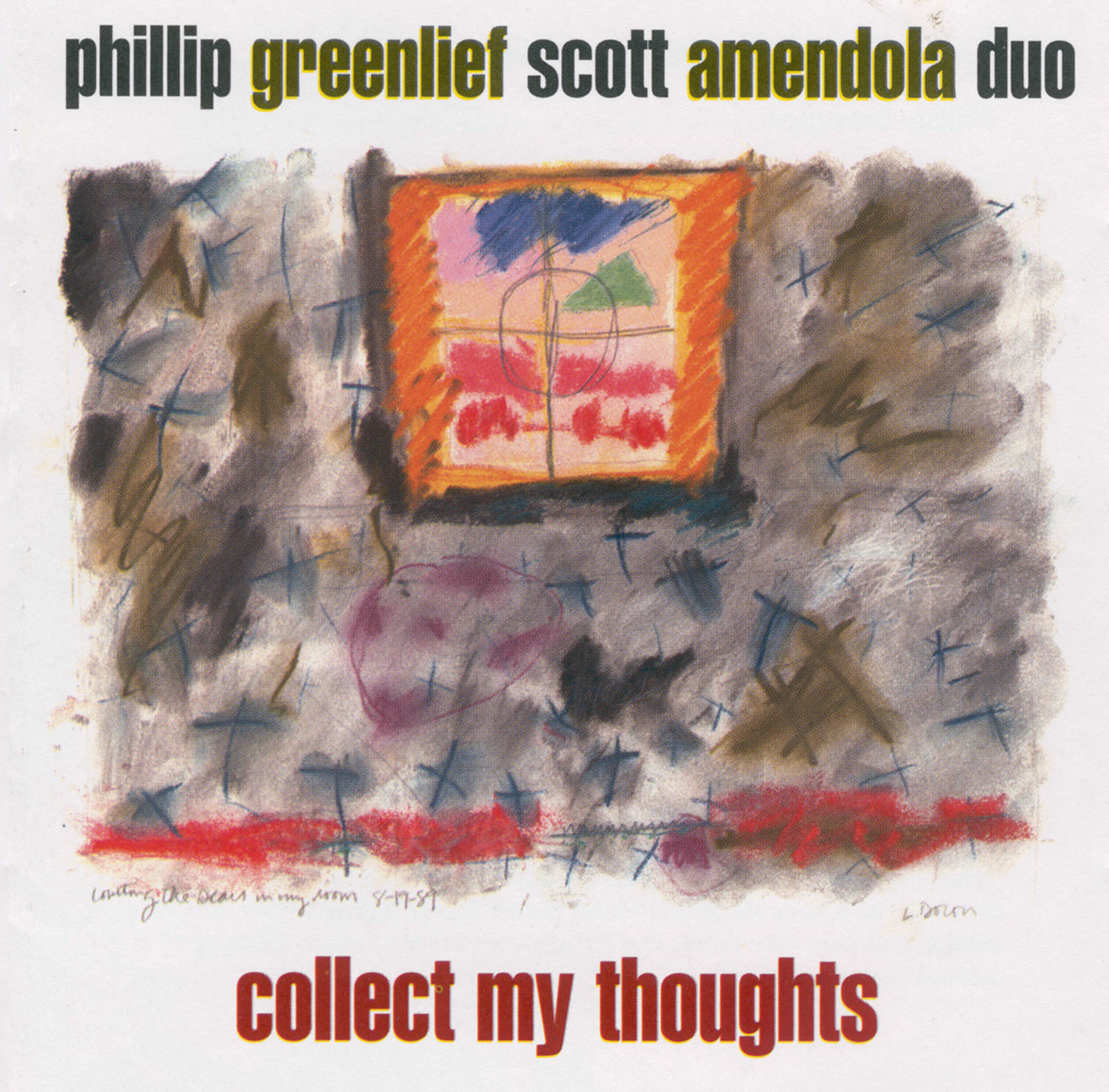 TRACK LIST:
1. Saint Louis (Phillip Greenlief) For William s. Burroughs
2. Ode to Sister Diana Ortiz (Phillip Greenlief/Scott Amendola)
3. Collect My Thoughts (Scott Amendola)
4. Spunk (Phillip Greenlief/Scott Amendola) For Zora Neale Hurston
5. Anne Frank (Phillip Greenlief)
6. Gingrich (Phillip Greenlief/Scott Amendola)
7. Feels Like… (Scott Amendola)
8. Spunky (Phillip Greenlief/Scott Amendola)
9. XXX (Phillip Greenlief/Scott Amendola) For Malcolm X
Phillip Greenlief tenor saxophone, piano, chimes
Scott Amendola drum set, percussion, accents
The titles presented on this disc are improvisations based on conversations between the musicians. Each piece strives to achieve a structural and conceptual resemblance to the subject discussed. Songwriting credit goes to the individual who instigated the conversation. When two names appear, both parties were equally responsible for musical/thematic material; the name which appears first is the person who gave the piece its title. Gingrich has appeared in concert performances under several titles, but none were appropriate for printing, so we decided to reduce to the smallest possible labeling. All of the performances are first takes, although Spunky was the 2nd take of Spunk (we liked both of them); there were no overdubs.
PG
Any images or hallucinations conjured up by the music expresssed, or by the title references, is purely intentionally coincidental.
SA
Produced by Phillip Greenlief. Executive producers Scott Amendola and Phillip Greenlief. Sf. Louis and Feels Like… recorded 10/21/94 by Myles Boisen at Guerilla Euphonics, Oakland CA. All other tracks recorded 6/13/95 by Jeff Cressman at Morton Studio, El Cerrito, CA. All tracks mixed by Jeff Cressman on 8/16/95 and 1/18/95 at Morton Studio. Mastered by Fred Tushinsky 5/17/96 at CD Labs, Los Angeles, CA.
Cover painting: "Counting Scars in My Room" by Lisa Doron.
Back Cover photograph by Kristina Perry.
Layout by Phillip Greenlief. Liner Design by Terril Neely.
PG & SA give thanks for assistance and support from:
Vinnie Golia, Jeff Cressman, Doug Morton, Myles Boisen, Kristina Perry, Lisa Doron, Beth Daly, Terril Neely, Margaret Greenlief, Jeremy Toback, Finn Taylor and The Oakdell Refuge, Nels Cline, Gino Robair, Dan Plonsey, John Eichenseer, Ben Goldberg, and everyone else we forgot.
p.s. We'll be back.
(©1995 Evander Music)